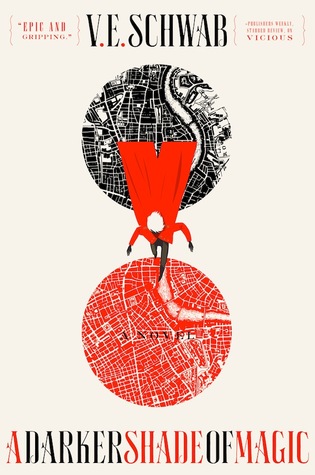 My first experience with author V. E. Schwab was through her middle grade/young adult novel, The Archived (which she published as Victoria Schwab) a novel that is a bit darker and subtler than one would expect given its target audience. I later listened to the excellent Vicious on audiobook and its genre-bending take on a superpowers that examine some familiar comic book tropes in new and intriguing ways. Both novels set a high bar for what I, as a reader, except from Schwab. A Darker Shade of Magic, is the most traditional of Schwab's novels that I've read but with enough of her own subtle touches that it easily keeps pace with her previous work while also managing to be one of the most entertaining fantasy novels I've read in recent years.
A Darker Shade of Magic centers on a young man named Kell, the last of a dying breed of magicians called Antari who have the ability to travel between worlds. Kell serves Maresh dynasty of Red London, a version of London where life and magic are worshipped. He is both the royal family's ambassador to other versions of London and their adopted son. Through Kell we are introduced to four different versions of London (and the wider world though we stay fixated on London itself) Grey London, ruled by King George and similar to our world; White London, ruled by a pair of siblings who have murdered their way to the top and whose primary goal is to increase their power through magic; and the forbidden Black London, sealed off years ago due to the corrupting nature of its magic. Readers are also introduced to Delilah Grey, who calls Grey London home, a young thief who dreams of owning her own ship and plundering the high seas. Despite Kell's lofty status he is involved with the very illegal act of selling items from other London's to collectors and it is this activity, and some particularly dangerous contraband, which kicks off a disastrous chain of events.
Schwab excels at telling readers just enough. Even in her earliest novels she has proved restrained in how much information about her worlds and characters she conveys. Her worlds unfurl at a deliberate and measured pace. Sure, there are times when you want to know more about the world of A Darker Shade of Magic with some amount of desperation but her attention to detail when it comes to characterization means that desperation never turns into frustration. Kell's displays an affected insouciance that is belied by his own actions particularly when it involves Delilah or his own adoptive brother Rhy. Kell's transportation and collection of illegal contraband from the other London's is a fascinating reflection of his own feelings of isolation, loneliness, and of being someone from all worlds and none. Kell's freedom to travel between the Londons (though I'm not sure Kell would call it that) is contrasted by Delilah's feelings of being trapped by circumstance. There is a complex interplay between Delilah and Kell as they play foil to one another while somehow feeling somewhat similar. Their relationship is born of circumstance but it feels like on some level they each recognize themselves in one another as their (mis)adventure leads to a rather fast bond. Schwab hints at some romance but keeps it in the background focusing more on the characters' growing trust and friendship. There are no declarations of love or outpourings of feeling but over the course of the novel Kell's and Delilah's actions reveal a deeper connection then either would likely ever admit out load. It's exemplifies a level of subtlety I've almost come to expect out of Schwab but one I'm few other authors can really match.
A Darker Shade of Magic doesn't shy away from putting it's heroes through the wringer. Without veering too far into spoiler territory the villains of the novel do tend a little towards the obvious but Schwab still manages to inject elements into the threat that stands against Kell with a real sense of personal tragedy. There are hint over the course of the novel that deeper currents are stirring beneath the surface of the plot. Nothing is too overt but I felt like Schwab sketched the barest outline of a question involving the history of the Londons, the nature of magic, and Kell's past. There isn't much by way of an answer but I'm hoping Schwab builds more detail into her world in the next book, A Gathering of Shadows. A Darker Shade of Magic is an entertaining and exciting novel from one of the fantasy genre's brightest up and comers. A recommended read for anyone who a enjoys fantasy fiction.