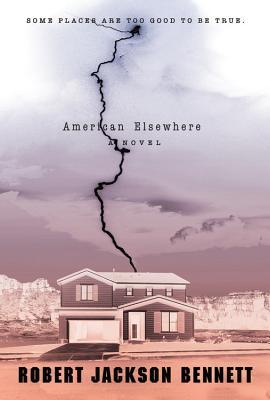 Imagine, if you will, the perfect town; immaculately groomed lawns, quiet streets, perfect houses, smiling faces, and no crime to speak of.  Wink, New Mexico is just such a town though as Mona Bright learns upon her arrival such perfection comes at a price. There are places in Wink that you just don't go, things you just don't do, and thoughts you aren't aloud to think. There are secrets hidden behind the immaculate walls and picturesque homes and the Mesa it sits beneath, home to an abandoned research facility, casts a long and deep shadow on the denizens of Wink.
Robert Jackson Bennett's American Elsewhere has one of the most perfect premises to get me interested. The novel's opening chapter provides a tantalizing glimpse that things aren't quite what they seem offering a nice taste of things to come before slowing things down a bit. American Elsewhere is a delicately paced novel focusing on atmosphere over action. Mona Bright, an ex-cop, discovers during the reading of her father's will that her mother once owned a house in a town called Wink. With the inheritance set to expire soon Mona sets off to find Wink which is a town that has become rather difficult to find in recent years. Arriving in Wink, Mona is met with a strange vision of a town seemingly right out of the 1950s where everybody knows everybody and nobody ever leaves.
As the novel unfolds Bennett focuses primarily on building tension, layering on the weirdness bit by bit. While the novel sets out with the focus on squarely on the mystery of Mona's mother it quickly unfurls into something grander and far more epic in scope. Elements of humor, horror, and science fiction infuse the novel creating a brilliant mosaic that reveals a complex and fascinating whole. The horror of American Elsewhere is, particularly at the start a subtle one. Wink is a familiar sort of place colored with just enough strangeness to prove instantly unsettling. The familiar combined with the strange creates a curious effect that seems to enhance both. One particular moment, as Mona explores the contents of Mrs. Benjamn's tea pantry illustrates this nicely. As Mona explores deeper and deeper into Mrs. Benjamin's tea pantry the ingredients listed on the teas become stranger and stranger, not to mention that fact that pantry itself seem to be impossibly large. It is unsettling precisely because it takes something so normal as tea and mixes it together with something strange.
American Elsewhere takes a bit of a science fiction turn as well. I get all tingly when science fiction and horror mention abandoned research facilities and my excitement definitely skyrocketed with the introduction of the lab atop the mesa. Glimpsed in the novel's prologue I was instantly desperate to see what kind of horrific secrets it harbored. Bennett delivers, though it definitely takes a while to get there. The nature of it's scientific explorations provide profound revelations for the rest of the plot. With the setting of Wink, including the lab, Bennett shows a real talent at world building. The setting, while not particularly large, has a sense of liveliness and authenticity that serves to ground the novel despite its weirdness. Wink essentially becomes a character in the story.
The audiobook version of American Elsewhere, narrated by Graham Winton is quite excellent. Winton provides the perfect tone for each scene and manages to capture a distinct voice for every character. However, at just over 22 hours its leisurely pacing can occasionally make for a difficult listen. Despite this I found the Winton's winning performance made for excellent company during a long drive holding my attention even as he described sights that were difficult to envision.
Sedately paced American Elsewhere is an engaging read with a winning combination of the familiar and the strange. Bits of mystery, horror, science fiction, and fantasy are deftly woven by Bennett to craft a tapestry of the strange and wonderful. This is a novel that wears many different skins and the genre-bending fits the tone of the novel perfectly. This is an excellent book that will stick with you until the end.